Steel Crash Barrier for Permanent or Temporary Guarding
We supply two types of steel crash barrier: one is a kind of permanent guardrail panel fixed along the road / ways offering protection/ isolation to the cars and travellers; the other is a kind of temporary fencing barriers for controling of traffic or crowd for certain time.
Type One: Fixed / Permanent Steel Crash Highway Barrier: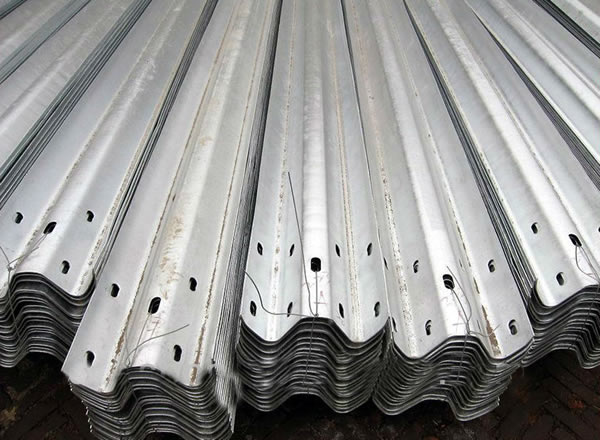 This crash barrier is a kind of cold-formed steel plate structure mainly used in a way of installing along highways. It has good impact resistance, low cost, high safety, environment protection. Generally sizeis 310mm on widht, 3mm, 4mm thickness.
Normal Size: 3200/3810/4000/4300/4320×306/310/312/380×80/82/83/85×2.75/3/4mm. Available in different sizes.
Profile: W-beam, Three-beam.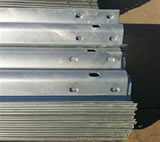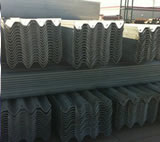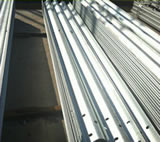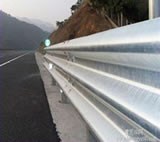 Fitting parts for permanent crash barriers include: post, spacer (C, U and Sigma types etc) and fasteners.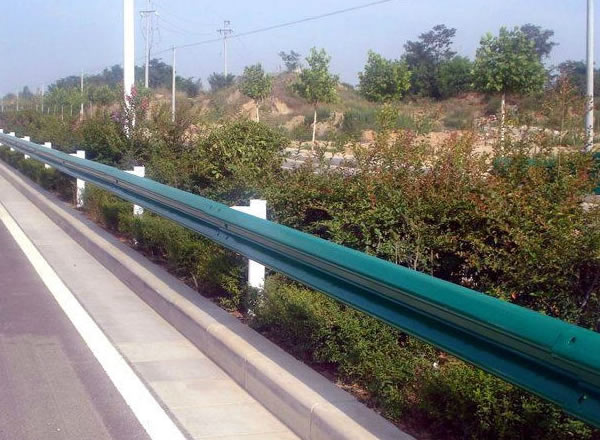 Type Two: Temporary Crash Barrier Railings: Welded Steel Pipe Railings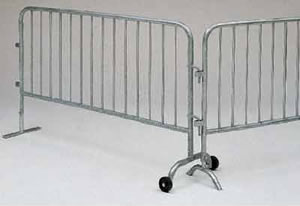 General Size:
Overall size:2100*1100mm Inside pipe :19mm*1.2mm
Outside pipe :25mm*2mm
Other Size:
Overall size : 2438*892mm
Inside pipe:16mm*1.0mm
Outside pipe :38mm*1.6mmm
Surface Treatment
HDG or others
Crowd Control Barrier feet can be various.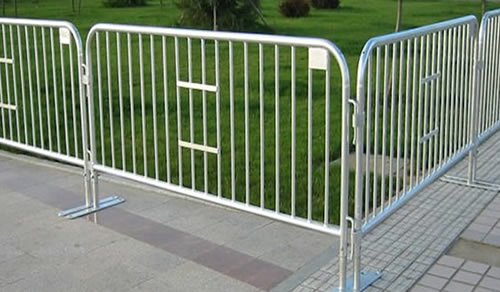 Material: Carbon steel pipe
Surface treatments: hot-dipped galvanized after welded
| | |
| --- | --- |
| Panel size(L*H) | 2.1*1.1m(popular) |
| frame(outer pipe) | 20mm,25mm(popular),32mm,40mm,42mm,48mmO.D |
| infill picket | 14mm,16mm,20mm(popular),25mmO.D |
| spacing | 60mm,100mm,190mm(popular)200mm |
| finish | hot-dipped galvanized after welded |
| feet | detached |
Application: Our steel barriers are design for help you keep control of your crowds at your event. They are made of heavy-duty steel with secure interlocking hooks. The pedestrian control barriers are commonly used at many public events and parking area. They are frequently visible at sporting events, parades, outdoor festivals, works, roads, streets, car parks, shopping centres, and restaurants. Event organizers, venue managers, and security personnel use barricades as part of their crowd management planning.
Features:
Fully hot-dipped galvanized after welding.
Weather resistant and durable, and will last much longer than other crowd barriers on the market.
Light and easy to handle, while being strong and robust at the same time.
The fence feet are removable which makes transportation and storage much easier and more efficient.
The steel crash barrier can be coated into beautiful colors: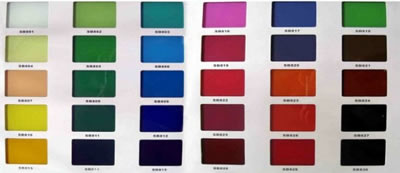 Bidded in Metal Crash Barrier Projects in South Africa
Metal Crash Barrier (Guard Rail) and Metal Railing for Road Construction Project in Africa.
Metal Crash Barrier(Guard Rail) Removing;
Metal railing removing;
Crash Barrier Guard rail re-installation;
Metal railing system re-installation.
Notice

We do welcome you to become our representatives in the African Countries. We are having various projects in African Countries. If you have similar projects under implementation in Ivory Coast, Madagascar, Senegal, Sudan, Tanzania, Ethiopia, Uganda, Togo as well as in Mauritania, pls do not hesitate to contact us to start a win-win participation.